Know How to Fix Cracked Heels at Home
Cracked heels are just a common problem you can experience. Both adults and children can experience cracked heels and it seems to affect women more often than men. Cracked heels for some people may not seem too serious. It causes discomfort when you go barefoot, in some instances, the cracks in the heels become very deep and causes pain. Keep on reading to learn the best home remedies to treat and prevent cracked heels. 
Home treatments for cracked heels
Heel balms or moisturizers:
The first in line of home remedies for cracked heels is to use a heel balm. It contains ingredients that moisturize, soften, and exfoliate the dead skin. You may look out for these ingredients: urea, salicylic acid, alpha-hydroxy acids, and saccharide isomerate. Heel balms can be found both online and over-the-counter at a drugstore. 
To treat cracked heels, apply the heel balm first thing in the morning as it can increase skin elasticity before you start your day, then moisturize your heel at least two to three times a day and wear shoes that are protecting your heel. Some balms can cause irritation which is normal, but if it still bothers you or is causing severe reactions, consult your doctor. People who experience severe cases of this may require a prescription-strength balm to relieve itching. 
Soaking and exfoliating your feet: The skin that is around the cracked heels are often drier and thicker than the rest of your other skin. They tend to split when you are applying pressure on it. Things that can help with this is through soaking and moisturizing your feet. 
Tips for a foot soak:
Keep your feet in a moderate warm and soapy water for 20 minutes. 

To remove any hard or thick skin, either use loofah, foot scrubber, or pumice stone. Then, gently pat the feet dry. 
Use a heel balm or thick moisturizer to the affected area. 

To lock in moisture over your feet, apply petroleum jelly. Wear socks to avoid the spread of any grease around you.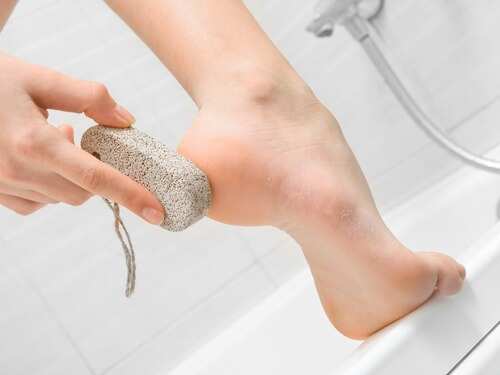 Don't scrub your feet when they are dry, it will just increase your risk for damaged skin. You may also try moisturizing heel sleeves, it has the same effect like the foot soak. It contains therapeutic oils and vitamins that can help in treating your dry skin. 
Liquid bandage:
Application of liquid bandage can be your option as well to seal the wound and to prevent infections to the cracks. It comes as a spray, so you can with your day without worrying that the bandage may come off. This one is a good option to treat deep heel cracks that may bleed. You may apply liquid bandage to clean and dry skin. It doesn't need a prescription as you can buy it at a drugstore or online.
Honey:
This can work as a natural remedy for your cracked heels. Antimicrobial and antibacterial properties are present in honey. It helps in healing and cleansing the wounds, and moisturizes skin. You can use this as your foot scrub after a soak, or by just applying it overnight as a foot mask.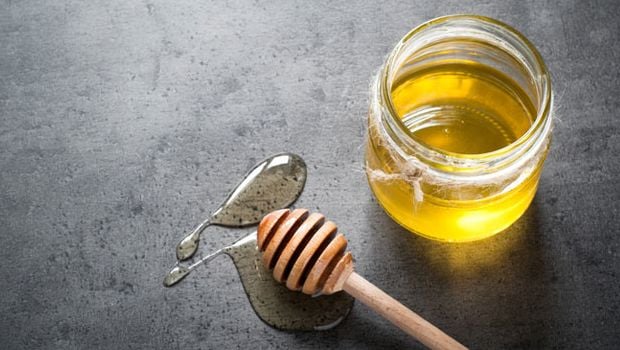 Coconut oil:
Often recommended for dry skin, eczema, and psoriasis. Helps the skin to retain moisture. Coconut oil could be one of your good options by using it after a foot soak just like the honey. The anti-inflammatory and antimicrobial properties present in coconut oil can help for cracked heels prone to infections or bleeding.
You can also look for helpful products online that might help you in treating your cracked heels. Arishine has something to offer, it's their nail repair cream. It just doesn't help in treating nail fungus because this cream can also help in protecting your skin and you can now enjoy crackless heels as much as you would like it to be. This cream is really safe to use and you can get a great value of product with a very affordable price. You might want to take look and try it out. 
Use caution 
You should treat cracked heels on your if it's caused by a medical condition. A Podiatrist should be the one to give special treatment that it needs and for people with severe cases, they are the ones who should evaluate it. They will surely suggest the best treatment for that situation. 
Causes of cracked heels
Having areas of dry and thickened skin around the rim of your heel is the first sign of cracked heels. The fat pad under your heel is expanding as you walk and this is why your calluses crack. There are other factors that cause cracked heels like if you're standing for long hours, walking around barefoot, taking long and hot showers, using harsh soaps that may clear the natural oils of your skin, or wearing shoes that really don't fit properly or don't support your heels. You better moisturize your feet regularly, so it won't dry out faster. 
Medical causes
Common causes for dry skin are high blood sugar and poor circulation that results from diabetes. Other conditions that can possibly dry skin and cracked heels: Pregnancy, aging, obesity, psoriasis, fungal  infection, vitamin deficiency are just some of those causes. 
Prevent cracked heels from happening
Always keep in mind that your footwear matters. If you already know that you are prone to cracked heels, then look and find shoes that really fit you properly and support your heels. If possible, wearing shoes with a sturdy and heel that can support and cushions your heels is much better. 
You should avoid flip-flops and sandals as it can increase the risk of your feet to dry out. Open-back shoes as well because they generally do not really provide you enough heel support. And also those shoes that are too tight for you. More ways in preventing cracked heels
Take a look at your feet everyday, most especially if you have diabetes or other conditions that can cause dry skin. 

Drink plenty of water to keep yourself hydrated. 

Don't just stand in one position or sit with crossed legs for too long. 

Wear clinically-tested padded and good quality socks. 

Using a pumice stone at least a few times a week after taking a shower helps in preventing thick skin. You should also avoid removing calluses by yourself if you have diabetes or neuropathy cause you may accidentally or unintentionally create a wound and just increase your risk of infection. 
There are a lot of ways to help you treat your cracked heels, there are present over-the-counter or home remedies, and online products. Seeing a doctor is better if your cracked heels is a severe case to prevent more possible serious problems. You can see improvement after initial treatment or may take several days and weeks for the cracks to heal. It now depends upon you on how you will prevent new heel cracks from appearing.